//
MOTORIZED OR FIXED RACKS
Durable racks with or without the use of a ladder.

// ABOVE THE COMPETITION
Store with confidence with industry leading weight capacity.

// OUT OF SIGHT, OUT OF MIND
Store rarely used items up high and out of the way.
CONSULTATION
IT'S TIME TO GET ORGANIZED.
CONSULTATION
IT'S TIME TO GET ORGANIZED.


INNOVATIVE OVERHEAD GARAGE STORAGE IN ASPEN
Put ceiling space to use and store your belongings high and out of the way. Our overhead garage storage in Aspen offers superior strength and customization so you can store more in less space. Easily open up the space in your garage and enjoy it again.
//
SUPERIOR STRENGTH
Ceiling-mounted racks hold up to 750 pounds and wall-mounted racks hold up to 1,000 pounds - making them one of the strongest in the industry.
//
ADJUSTABLE
Downtubes can shift up or down at any time to support changing height needs. Whether you need to store more or need to store less and want more overhead room available, our overhead racks can accommodate.


// EXPANDABLE
Storage platforms can be attached and combined with one another to allow for more storage.

SAFETY LIP
2" lip securely holds all of your storage in its place

CUSTOMIZABLE
Racks can be combined for greater storage capacity
MOTORIZED OPTION
Skip the ladder and load your racks from the ground level

PROFESSIONAL INSTALL
Authorized dealers ensure a proper installation
// USER-FRIENDLY MOTORIZED SYSTEM
Overhead storage racks maximize the seldom-used space above your head. Adding innovative technology to this popular overhead solution has made it easier to store your boxes, bins, and other bulkier items safely above your head. This is the garage storage lift Aspen residents want for a more complete garage storage plan.
Using 4 Bluetooth motors and an intuitive smartphone app, easily lower and raise your rack to load and unload items. The independent motors will communicate with each other and adjust when uneven weight distribution is sensed to ensure that the platform remains level.
• Manufactured in the U.S.A.
• Controlled with your smartphone
• 350lb storage capacity
• Lifetime warranty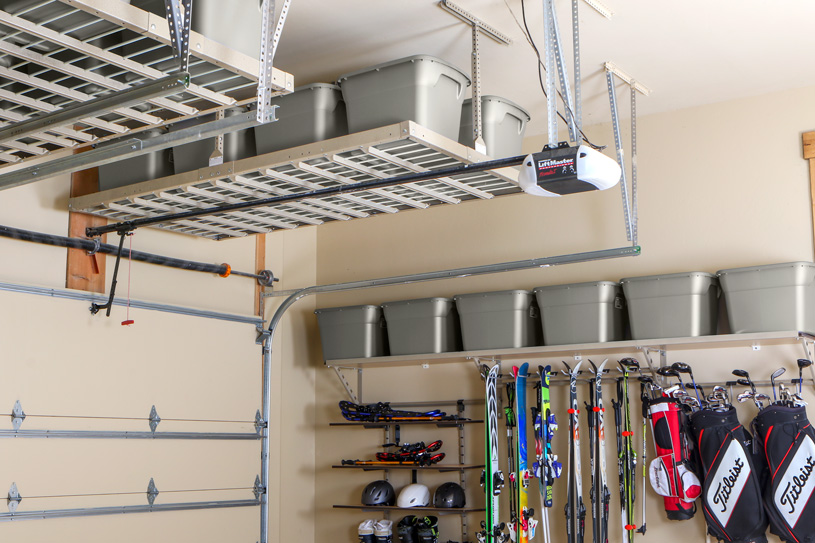 OVERHEAD
GARAGE
STORAGE FEATURES
Fast Install: Overhead storage ships fast and can be quickly installed by our pros due to its innovative crossbar and grid pole design. Less hardware is needed and fastens more securely to the ceiling.
Safety: The gusseted T-brace mounts are positioned to create less sway and the 2-inch safety lip all the way around ensures all items stay secured.
Easy Access: The open corners and base tracks allow you to lift items off the platforms from underneath. This feature creates less of a hassle of grabbing items and lifting them down.
FREE ESTIMATE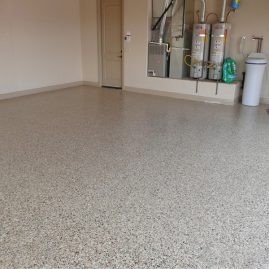 We love our garage floor. Patrick was very easy to work with and he did a great job.

Other than looking great, I'm certain that this will extend the life of the concrete for many years. Great work. Prompt. Clea… Read more
GARAGE OVERHEAD STORAGE HIGHLIGHTS
Steel Construction: The entire rack, frame and platform, is constructed with thick steel to ensure its strength is uniform and never bows under heavy weight.


Affordable:
Get the best bang for your buck and get overhead garage storage Aspen homeowners love.
Length:
One rack is 8 feet long and can be combined with additional racks to increase storage space. This provides plenty of room for storing all of your bulk items.
Everything Off the Floor:
Overhead garage storage in Aspen lets you store large items up high and opens up floor space so vehicles fit easily and you're able to enjoy your garage.
Let us help you get your garage organized. Call us today for a free quote!
//

AS SEEN ON
Gorgeous Garage products have been proudly featured on acclaimed national home improvement television shows. Get the trusted brand in garage organization systems for your home today!

It's more than storage.
It's your life.™
OVERHEAD SOLUTIONS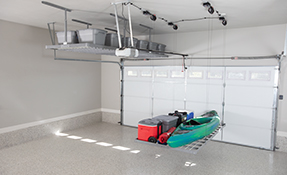 Bluetooth motors can raise and lower the platform using your smartphone
.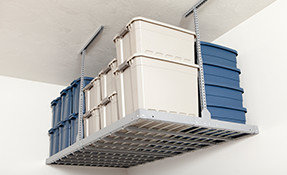 Wall mounted racks can hold up to 1,000 pounds per rack.
Each 8' rack can be combined with more racks to form even larger platforms.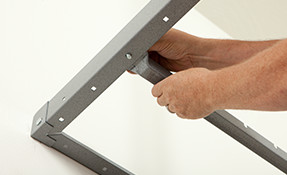 Made from industrial grade steel, these racks can handle anything.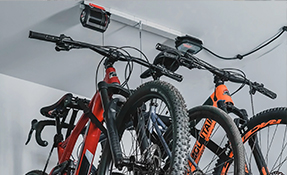 Get your bikes and other accessories off the floor with Bluetooth motors.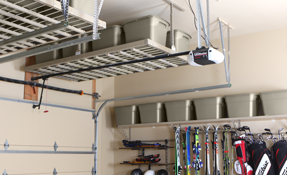 Overhead racks come in Granite Gray and Desert Stone to match your Monkey Bars Shelving System.