// SHELVING AND RACKS
Get a one of a kind garage with top of the line products.
// WE'VE GOT OPTIONS
Custom designs to fit any garage and any hobby.

// ROOM TO SPARE
Get garage clutter off the ground and out of the way.
CONSULTATION
IT'S TIME TO GET ORGANIZED.
CONSULTATION
IT'S TIME TO GET ORGANIZED.
GARAGE SHELVING ASPEN
HOMEOWNERS NEED
Get the most versatile garage organization shelving system in Aspen. Get everything up and off the floor with our shelving system. Recover valuable floor space with the help of our strong shelves. See why we offer the best garage shelving in Aspen.
//
LIFETIME WARRANTY
We believe in the durability and quality. We think our products are so great that we dared to back it
up with a lifetime warranty.
//
ADJUSTABLE
We know your
storage needs
are constantly changing. That's why we have designed an adjustable product to change along with your needs.
//
COMPLEMENTARY ORGANIZATION
Receive complementary organization by our professionals with the purchase of our system. We will do all the hard work so you can enjoy what you love doing most.
STRONG
Holds 1000lbs every four feet of shelving

TWO COLOR OPTIONS

Designed to match any home and style

OFF THE FLOOR

Get everything off of your floor for easy cleaning

COLOR COORDINATED

Designer Series finishes match your garage cabinets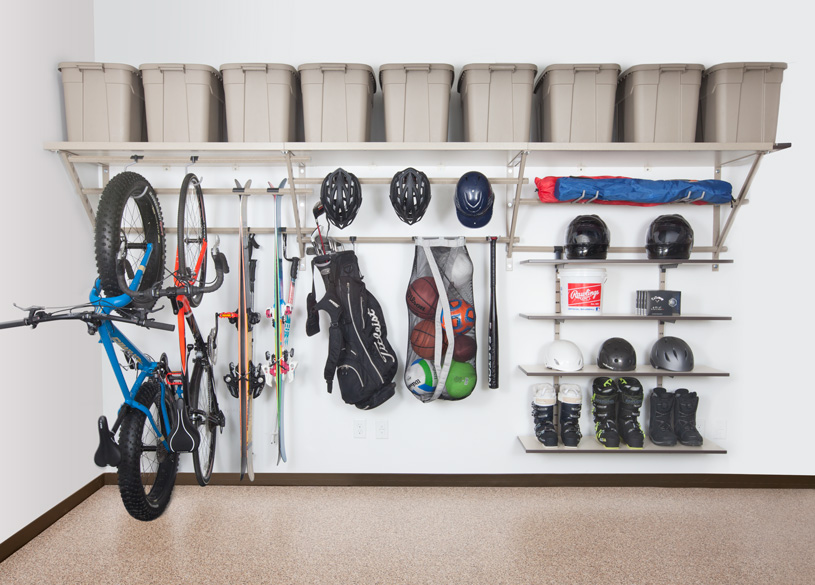 IN NEED OF STURDY GARAGE SHELVING?
Our garage shelving in Aspen is the strongest in the industry. Our shelving can hold 1,000 lbs every 4 feet. Making this a safe option for storing away any items, no matter the weight.
Custom Built: Our garage storage system is built on site, to ensure that your needs and wants are met.
Steel Constructed: No need to worry about replacements. Our shelves are steel constructed to last you years.
Affordable: With our system, you can store your items in half the space needed than any other regular storage system.
Accessories: Organize all your items with our saddle racks, shoe racks, ski racks and ball storage bags.
FREE ESTIMATE
PROFESSIONAL HELP
Our professionals are here to help you get organized. We have solutions to any organization problem! Simply call us to schedule your free at home quote. We provide our customers honest quotes to help you reach your storage goals and needs.
THE LIST OF BENEFITS CONTINUES
Drop-down Shelving: Our drop down shelves can be easily moved. Simply remove the Monkey Bar and slide it right into any other shelving system.
Industrial Strength: Get the strongest shelving in Aspen. Our shelves hold up to 1,000 lbs for every 4 ft.
Hooks:
Get everything up and off the floor with our hooks for garage shelving
in Aspen.
Find a place for all of your items.
// AS SEEN ON

Our garage storage is perfect for your family. Just wait and see! Give us a call to learn more about our storage systems.

It's more than storage.
It's your life.™
SHELVING SOLUTIONS
// 24" D-10 GARAGE SHELVING

24" deep shelf, 10 adjustable bar positions.
// 16" D-6 GARAGE SHELVING

16" deep shelf, 6 adjustable bar positions.
// 24" D-6 GARAGE SHELVING

24" deep shelf, 6 adjustable bar positions.
32" deep shelf, 10 adjustable bar positions.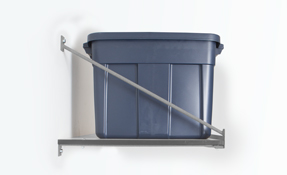 Great for over windows and doors.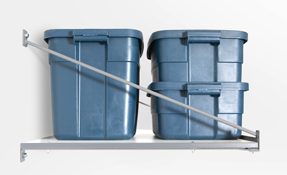 Great for over garage doors.
Easily and securely snaps in and out of the brackets. Available in 35" and 51" lengths.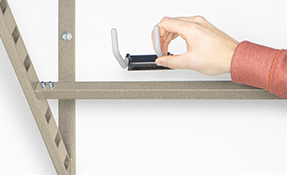 Hooks snap on and off bars, and hang almost anything off the ground.
Eight
hook types to neatly store the items in your garage
.
//
ADJUSTABLE WALL SHELVES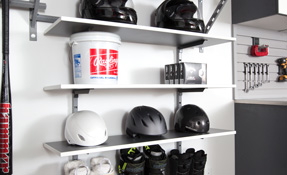 Shelves 13" deep and 36" or 44" long. Can mount directly to a wall or suspend from a Monkey Bar.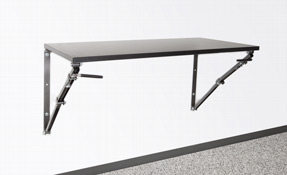 Sturdy when you need it, out of the way when you don't.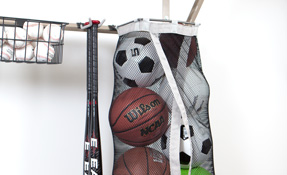 Easy organization for sports fans in your family.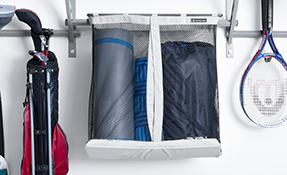 Great for helmets, sports gear, exercise equipment and more.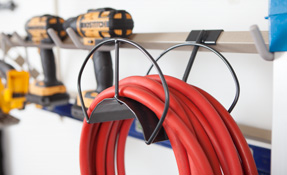 Perfect for holding garden hoses, air hoses, and extension cords.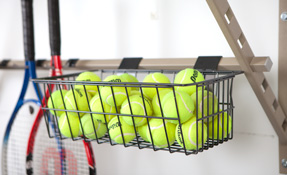 Stores golf balls, baseballs, hand tools and more.